Pro is the perfect package for medium to large sized labs with a single computer.
Its one of our most versitle packages designed with the true power user in mind!
---
Written for Windows, WinVoice-PRO takes a graphical approach to dental laboratory invoicing and billing, making traditionally boring and tedious tasks quick, easy, professional and fun!
The invoice screen is designed intuitively permitting quick data entry, just a few clicks of your mouse and your invoice/work ticket is complete. no more need for product codes, pencils, calculators, and frustration. Most fields have pull down boxes allowing you to quickly select an item instead of having to type the name or code. If you prefer to type, you need only type the first few letters of the data before WinVoice recognizes what you are looking for and completes typing for you. Dates are especially easy, a graphical calendar is displayed, you just click on the day in question. Pricing is simple, just click on a tooth in the tooth chart, it automatically highlights, telling the system the number of units and the teeth involved. It doesn't take an incredible typist or someone with computer knowledge to quickly generate an invoice with WinVoice.
Not only is WinVoice quick and easy, it is almost completely configurable. Every element of an invoice can be changed to fit how you run your lab. You may setup as many departments, shades, restorations, designs, and metals that you wish. You may name them what you wish, and price them as you wish. You even have the ability to specify different fees for every doctor. WinVoice is shipped complete with dummy doctors, restorations, designs, and prices. All that is needed to start, is to modify the existing dummy data to correspond with your lab's doctors, restorations, and prices.
WinVoice is designed to be pleasing to the eye as well as to the other senses. The look and feel of WinVoice can be changed to fit your individual tastes. Each user can change the background desktop that WinVoice uses. They may select any bitmap they desire, a Windows desktop bitmap, your company logo, the PECOS desert scene, or if you prefer, a plain background color.
WinVoice can use two different accounting systems. It can use balance forward as you probably already use or Real-time accounting. In Real Time accounting, payments are applied to the oldest invoice sand statements display all invoices that have been unpaid, or partially paid, as well as current invoices. Your doctors get to see exactly where all charges originate and how their payments apply. You will never again need to spend valuable time researching a doctor's account to assume him/her your records are correct. Switching back and forth between the account styles is as easy as clicking a box!
Keeping you in touch with your lab's operations is a high priority for WinVoice. Real time reporting gives up to the minute information on doctor productivity, value, and remakes. You can instantly view a unit and dollar amount of cases working and receivables that are current, 30, 60, 90, and 120+. Scheduling and employee productivity are a snap with WinVoice and unlink most dental lab software, WinVoice can send all reports to the screen, print, or fax/modem.
WinVoice is a Windows based program. Therefore, you can use the clipboard to cut and paste information from other Windows programs. If you already have doctor information in your word processor, this makes setting up WinVoice a breeze. WinVoice has been optimized for multi tasking environments so there is no need to exit WinVoice when you run your word processor or other software. You can hardly tell that WinVoice is operating in the background!
Most of today's popular software titles require vast amount of drive space. We know you drive space is a valuable commodity, that's why the data file structures of WinVoice have been designed not only for speed, but for size as well. The basic WinVoice installation takes a mere 2 megs of drive space! WinVoice also allows you to compress and archive old data files. By routinely archiving, you can reduce the drive space that WinVoice occupies by more than half!
WinVoice requires a minimum of a 386-33 IBM compatible PC with 2 megs of RAM, 5 megs of free drive space, Windows 3.1, and a high density 3 1/2 floppy. Fully tested with Windows 95 and Windows NT, WinVoice will run on practically any computer.
Some of the primary advantages of WinVoice over other Windows packages are:
Form letters, invoices, work tickets, and statements can be modified to fit your existing pre-printed forms or you may completely customize them to fit your tastes(we offer a service to create custom forms for a nominal fee). All customized formats can be printed on plain paper, tractor feed computer paper or pre-printed forms. Optional bitmap printing allows you to print tooth charts and your company logo!
Fully compatible with Lite and Net. Upgrading to and from a different version is quick and easy. WITHOUT LOOSING YOUR DATA!
Easy to use interface complete with button bars, status bars, and configurable "desktop".
Space saving data compression causes your data to take up nearly half that of competing softwares.
Unlimited old case lookup. Cases are saved until you decide to remove them.
Reports are configurable. This allows you to get to the information you want when you want.
Onscreen reports. These tabular dialogs allow you to look at and even copy to the clipboard your report information.
Pie graphs give you a graphical representation of your business data.
Employee security allows you to safeguard your data.
Supports both United States and Canadian tooth numbering schemes.
Multi-company support. Control several labs with one software or divide your company up into departments for productivity tracking!
Practically unlimited configuration. You are "limited" to approximately a million doctors, restorations, designs, shipping types, payment types, status types, metals, departments, etc. Restorations and designs are sub-divided by department for faster data entry.
Auto-scheduling. You configure how long it takes to preform your restorations and configure a easy to use calendar and WinVoice will give you recommendations on when to schedule cases!
Step tracking for employee productivity.
The reasons for going with Pro over Junior are:
Increased reporting capabilities. There are litterly hundreds of different report types that Pro can generate.
Optimized for medium to large sized labs. Statements generate and invoices print much faster than Junior.
Employee security. Assign what functions an employee has access to.
Mulit-Company support. Run multiple locations from the same software!
Auto-scheduling/step tracking. You can see what steps on a case need to be completed when.
Doctor group billing. Assign multiple doctors to a single billing group.
Archiving compresses old invoices and saves drive space.
Imaging. Allows you to store scanned graphics along with invoices for future reference.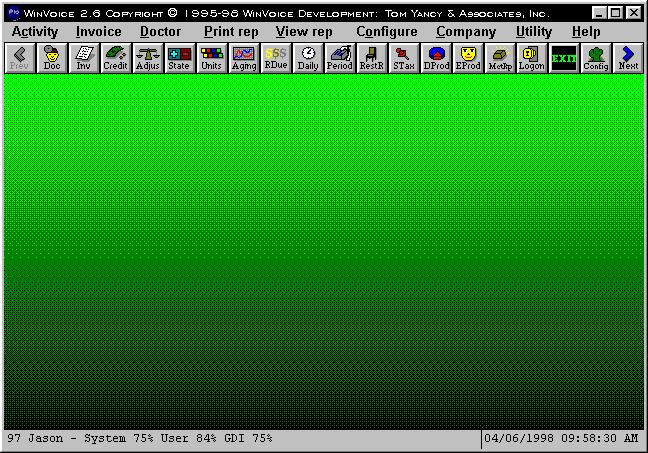 This is the main Pro desktop, all functions are easily available from the convient button bar or from the pull down menus at top. The bottom status line gives help as you move your mouse above the buttons on the button bar.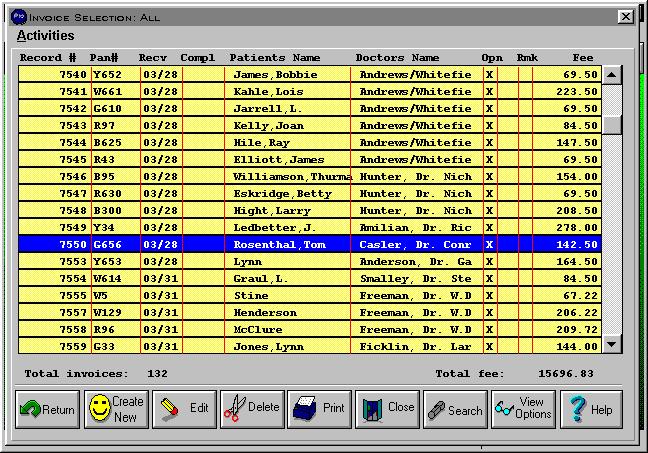 Here is the main invoice list screen. Buttons at the bottom conviently control the list. You may also select multiple items from the list above, for such functions as printing and closing. View options allow you to sort and limit the items in the list in many combinations.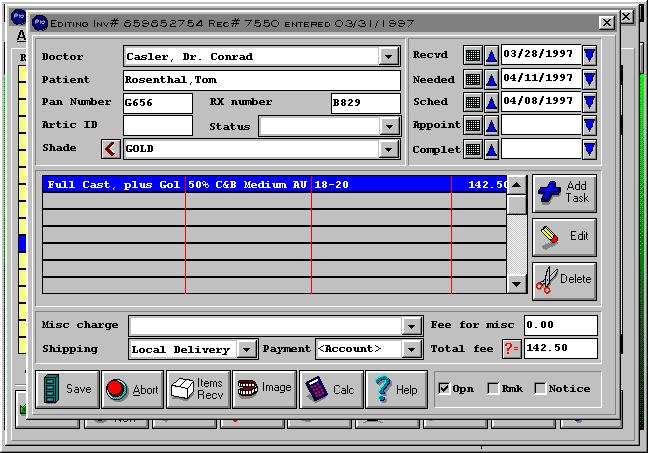 The invoice/work ticket edit screen gives you quick and easy access to the entire invoice. The top section is intuity laid out information. The middle section are the "tasks" to complete an invoice, which is a unique concept of "designing" a case.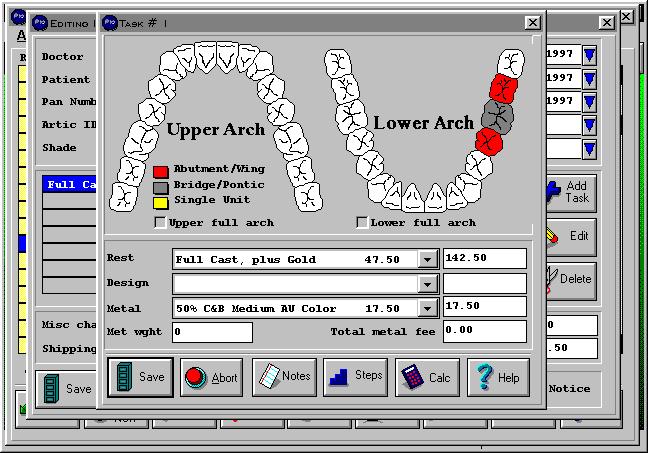 And here is a task. You select the teeth involved in the upper section, using multiple clicks on a tooth to indicate different types of items. Then at the bottom, you select a restoration(billing item) and optionally a design and metal. If you need special pricing, simply override the price to the right. From here, you can also modify the steps to produce this restoration and the employees that preform them.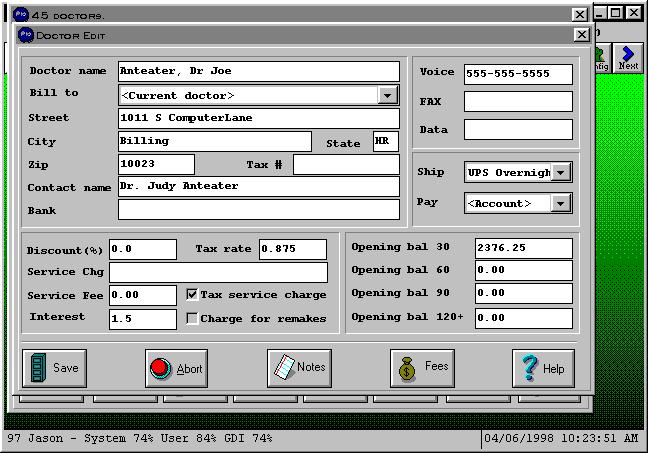 You can store a huge wealth of information on each one of your doctors.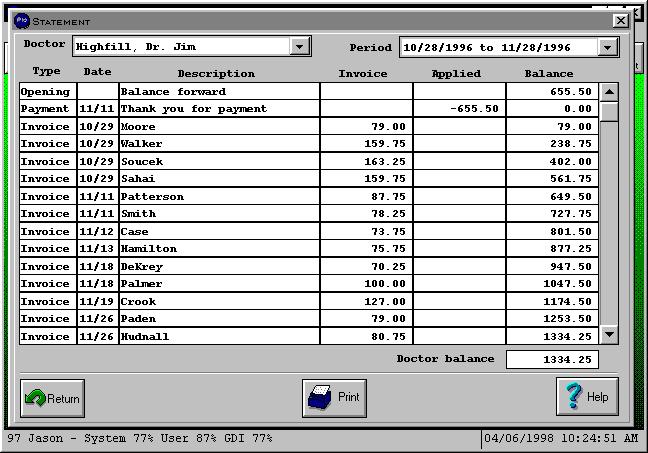 Statements are consice and easy to read. You can click on any line to edit/view an invoice. You can also select previous billing cycles. Imagine, a doctor calling to discuss a statement from 6 months ago, you can either search endlessly through a filing cabinet, or click three times inside of WinVoice and have the entire statement on your screen including easy access to the end invoices.