---
Features

---
WinVoiceJR
is an accounts receivable package designed for dental laboratories. Cases that you receive from your doctors are entered into the computer allowing you to print work tickets, invoices, doctor critique slips, and return labels. When the case is completed, you tell Junior to "finish" the case, the information is then sent to the doctor's billing account. At the end of the month, you are able to quickly print statements to be sent to each of your doctors. When a doctor sends a payment, you can easily enter the payment as a credit inside Junior which is automatically posted to the doctor's next months statement. WinVoiceJR allows you to easily print professional looking invoices and statements that can even be customized if necessary.
Junior is the smartest, easiest to install and operate of any dental lab program we have seen. WinVoiceJR allows you to enter items on the "fly", Junior then memorizes the restorations, metals, materials, their respective prices and how they relate to each doctor when the invoice is saved. This means you don't have to spend hours pre-configuring the software. Each time you create a new invoice, you are able to select items from ones previously memorized or type in new ones. The more invoices you create the smarter WinVoiceJR gets!
Junior also uses a new technique called "themes" to make navigating WinVoiceJR faster, easier and more fun. "Themes", (selectable personalities), allow different user interfaces to be selected. This lets you tailor the software to match your computer experience or taste. The following is a listing of "Themes" that are currently included with WinVoiceJR.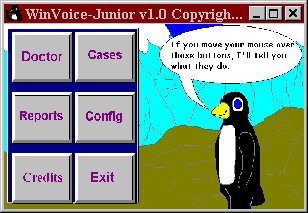 A whimsical Penguin theme, which has the mascot penguin helping to guide the user through data entry.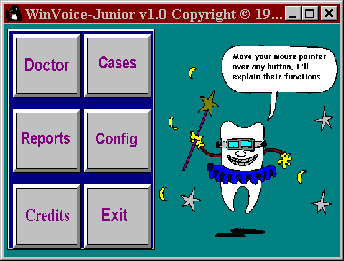 A comical Tooth Fairy offering assistance.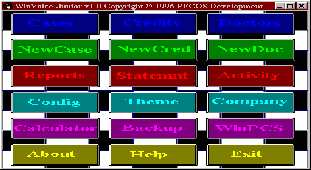 A Power Users theme that puts all of WinVoiceJR's functions at your fingertips.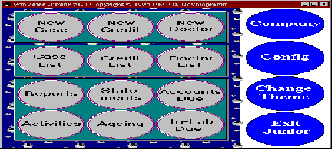 A Round theme gives the most often used functions in a "bubbly" environment.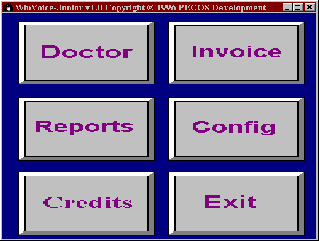 The Flat theme gives a basic no frills doctors/credits/cases/config/report/exit buttons.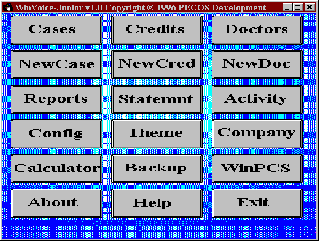 Gradient Power Users gives an alternative background to the popular power users theme.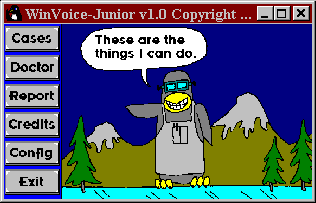 The mascot penguin gets a new look with the Lab Penguin Theme. He's all geared up with lab coat and goggles to help you get your cases out!



When Halloween comes around, surprise your employees with the Halloween Junior theme. This friendly ghost helps you create your cases.

It's quick and easy to switch between different themes. Two clicks of your mouse and you're in a completely different interface. We are constantly offering new themes based upon user suggestions and for a small fee, we will even design a user's theme exclusively for your laboratory!
System Requirements

---
WinVoiceJR
is a native windows software and runs on Windows v3.1, Windows95, and Windows NT. The minimum system requirement is a 386dx33 with 4 megs of RAM, but if you intend to operate the software with a users theme, a 486/66 with 8 megs of RAM is recommended. WinVoiceJR requires 8 megs of free drive space to install.
History

---
WinVoice
dental laboratory invoicing and billing software was released in 1995 with a market targeted to medium sized to large dental laboratories.
WinVoice
was first available in only two packages, a Single User package (WinVoicePRO), ideal for labs with only one computer and a Network package (WinVoiceNET) designed for large labs using several computers. Both allow for the accounting of multiple companies and have a vast array of employee and production reporting.
Soon after the release of WinVoice it became apparent that there was a need for a program with less sophistication that would better accommodate the unique needs of smaller labs. WinVoiceLITE was created by trimming away features of WinVoicePRO. Ones that small dental laboratories told us they didn't require. WinVoiceLITE is an excellent package, suited for the smaller lab that is interested in automatic case scheduling and employee production concerns.
WinVoiceJR took simplification a bit farther, it too was created to accommodate the needs of a small lab, but special interest was taken to address the fact that small lab owners are very busy and may possess little or no computer related skills. WinVoiceJR is ideal for the 1 or 2 man laboratory that wants an easy to use invoicing and billing system designed for the unique way dental labs do business. It is quick and easy to install, with virtually no preconfiguration necessary.

WinVoice Junior Plus Modules
Adds additional features to your already existing copy of WinVoice Junior. It adds a lot of power to Junior for only $59 apiece!